Benin Republic court begins hearing in Igboho's extradition case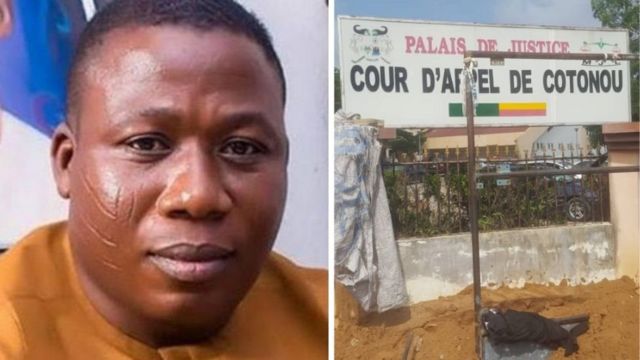 Sunday Adeyemo, Yoruba nation agitator popularly known as Sunday Igboho, has finally arrived in court in Benin Republic.
The hearing in his extradition case is ongoing at the Court D'Apeal in Cotonou.
His supporters had earlier converged at the court ahead of his arrival, but they later moved to the Brigade Criminelle facility where he was held. Igboho and his wife had been under interrogation by Beninese security operatives since Wednesday.
They were held by Brigade Criminelle after their arrest at Cardinal Bernardin International Airport while on their way to Germany on Monday night. On Wednesday, some Yoruba people residing in Cotonou had thronged the court, singing solidarity songs and demanding freedom for Igboho. They also demanded an independent nation of Yoruba people. They said they have confidence in the Benin Republic justice system, expressing optimism that Igboho will be freed.
Similarly, dozens of protesters had gathered at the home of Igboho in Ibadan, Oyo state capital, to protest his arrest. The protesters blocked Soka junction road, with hundreds of motorists caught in the traffic. Enita Ogunwusi, Ooni of Ife, has set up a 28-member committee of south-west leaders to look into Igboho's arrest.
Some of the people on the committee are Oba Olusola Alao, the Olugbon of Igbon; Senator Biodun Olujimi; Toyin Saraki; Segun Awolowo'; Doyin Okupe; Gbenga Daniel, and Muyiwa Ige.
About The Author