Benevolent Nigerians pay for Buhari's $130,000 nomination forms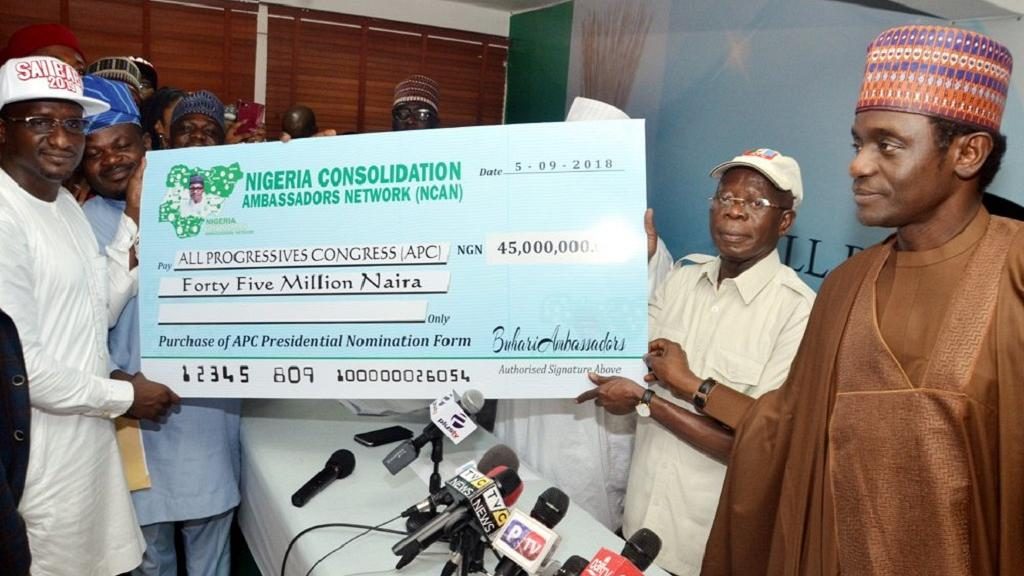 Nigerian president Muhammadu Buhari will not have to pay a dime for party nomination forms because it has been paid for by a group of benevolent supporters, his aide on new media said on Wednesday. Bashir Ahmed said the forms which cost 45 million naira ($130,000) had been purchased by "a group of good Nigerians." He shared photos of the people who went to the party headquarters to secure Buhari's expression of interest and nomination forms.
The septuagenarian earlier this year declared his intention to seek a second term on the ticket of the ruling All Progressives Congress (APC) which brought him to power in 2015. The cost of the forms has been seen as too expensive hence monetizing the political process but also locking out young people who cannot afford the amounts.
Whiles the APC has almost doubled its fees from 2015, the main opposition Peoples Democratic Party (PDP) have significantly reduced their fees.
APC presidential primaries: 27.5 million naira in 2015 to 45 million naira ($125,500) in 2018.
Governorship primaries: 22.5 million naira in 2018, up from 10 million naira last time round.
PDP presidential primaries: 22 million naira in 2015 to 12 million in 2018
Governorship primaries: 11 million naira to six million naira.
Critics insist the sums are still significant sums in a country of more than 180 million where some 87 million live in extreme poverty, according to the World Poverty Clock.
The APC has offered a half-price discount for women and the disabled, while the PDP has made forms free for female candidates, in a move designed to widen representation.
About The Author