Nigerian Senators endorse Nollywood Movie 'Heaven On My Mind'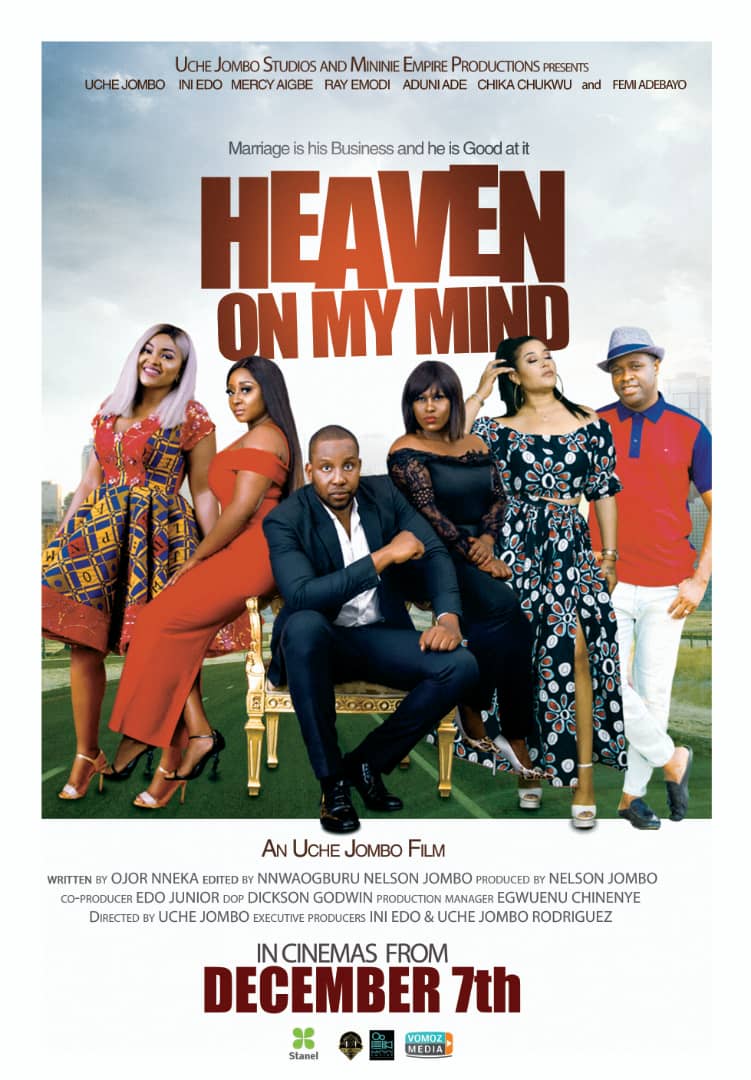 Senate president Bukola Saraki has on behalf of Nigerian senate, endorsed a captivating Nollywood movie titled, 'Heaven On My Mind' which is bid to open in Cinemas Nationwide December 7, 2018 for public view. 'Heaven On My Mind' is a movie of its kind that addresses societal contemporary issue of men that go about dating several women and its consequences. It is written and directed by Uche Jombo and jointly produced by Minini Empire Productions and Uche Jombo Productions.
Starring in the film are Ini Edo, Uche Jombo, Adenu Adebo, Mercy Aigbe, Ray Emodi, Femi Adebayo, Chika Chukwu and host of other Nollywood actors and Actresses. In its first private screening in Abuja on Wednesday, the senators who stormed the venue and other few selected audience applauded the brains behind the educative movie for a great job.
Commending the co-executive producers of the film (Ini Edo and Uche Jombo), Senator Joy Emodi, CON, said, "I must start by saying that Uche and Ini are very minded individuals. I am here to watch the screening because I believe in their talents. My son, Ray Emodi is also one of the actors and they all performed excellently well in the movie. It was indeed, an interesting view and I can't wait to watch more of it as they have promised to open it in cinemas nationwide December 7."
In his reaction, Senator Dino Melaye appreciated the job, saying, "The movie is a great display of intellectual mobility. It is very African and Nigerian. It is a wonderful movie and it can also pass for a good comedy movie. I love it. I appreciate the quality of the movie. The actors and actresses were at their best. I appreciate them and the movie is good to go".
Another audience, Mrs Ijioma Cofie-Spiff said, "I am here for the private viewing and I actually laughed. Specifically, I enjoyed the Yoruba actress, Mercy Aigbe. She is, indeed, very funny. The movie generally is a good one that everyone would like to see. They really tried and Nigerians can't wait to view the film as it opens in cinemas all over the nation December 7. I must also commend Nollywood. The industry has really grown and doing excellently well now compare to when they started. It has gone places and tremendously improved in terms of acting, directing and messages. They have really done well so far and, once again, I must commend them".
Also reacting, Emeka Mbonu, "the movie was excellent, real and captivating. The viewers loved it. It passes great message to the youths and upcoming generations. More importantly, it is a good lesson for younger men who go about dating multiple women. The film shows the pitfalls of those doing such things. I was actually shocked that this kind of thing could happen. It was, indeed, a true movie. The audience loved it and I am sure it's going to sell very well".
Chidi Ofondile Onyioka reacted saying, "I enjoyed myself. The film is beautiful and wonderful. I hope to watch it in a formal cinema to enjoy myself more. The producers, Ini Edo and Uche Jombo really did their best. They tried and it is a must-watch movie for all".
Another viewer, Mrs Chidia Maduekwe also said, "I think the movie was captivating and interesting. I enjoyed it personally. From beginning to the end, it was quite catching, keeping someone in suspense at every stage. Personally, I must say that it was interesting and I actually enjoyed myself. Every stage was well thought out, well-acted out and well played. All the actors and actresses really tried in the film. Nollywood is actually growing fast. Even when I was in America, I was not watching any English movies; I watched only Nollywood. They are doing great and they should keep it up".
In attendance during the private screening of the movie include Senator Ikechukwu obiora (host), Senator Joy Emodi (CON), Senator Dino Melaye, Chief Raymond Dopesi, Chief Okafor, Senator Igochuba and host of ther personalities and celebrities.
Heaven On My Mind showing in Cinemas nationwide on December 7, 2018.
About The Author