$496m Fighter Jets: Buhari Must Be Impeached, Senators Demanded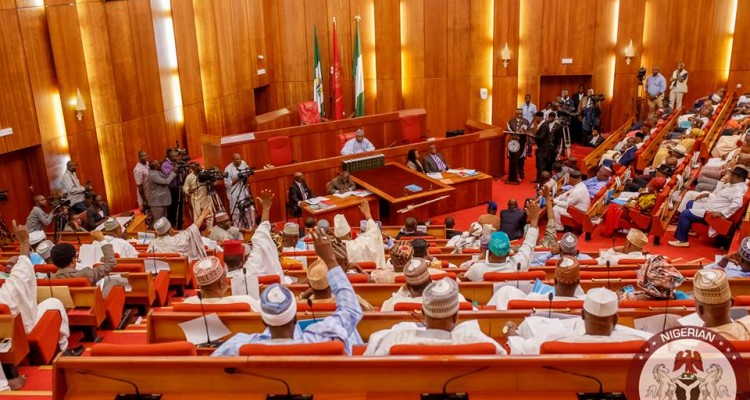 $496m Fighter Jets: Buhari Must Be Impeached, Senators Demanded
Some Senators on Thursday called for the impeachment of President Muhammadu Buhari over the purchase of the $496m super Tucano fighter jets.
The Senators during plenary on asked Senate President Bukola Saraki to invoke Section 143 of the constitution in view of President Buhari's approval of the extra-budgetary spending of 496 million dollars to purchase the aircraft.
In a motion moved by the Chairman Senate Committee on Public Account, Senator Mathew Urhogide, is of the opinion that "It's a violation of Section 80 subsection 1, 2, 3, 4.
"The procedure of the expenditure is wrong. There ought to be an appropriation before such expenditure. I hereby request that the Senate President should invoke Section 18 of the Constitution."
Mr Urhogide cites Orders 15, 42 & 52, says this matter should be forwarded to the appropriate committee, Channels tv reports.
"The President's request is wrong, it's a violation of our process, proceedings and the 1999 Constitution (as amended)".
Senators Chukwuka Utazi and Sam Anyanwu also backed Senator Urhogide on the call for Buhari's impeachment.
According to Senator Utazi "I rise to second this motion with Section 80 subsection 2 and 3. We are still on the appropriation bill, we have not finished it, Service chiefs were appointed without the approval of the Senate."
"These Tucano helicopters are to be brought in 2020, why include it now in appropriation.
"This is an impeachable offence."
Meanwhile, Senator Abu Ibrahim has disagreed with the call for the President's impeachment arguing that since the establishment of the excess crude account, no government has ever sent a formal request to the National Assembly for approval for appropriation of funds.
But the other Senators are of the opinion that Section 143 deals with the impeachment of the President.
The purchase of the Tucano aircraft raised many concerns to Nigerians as the House of Representatives was in a rowdy session over the presidential request to include the $496million fund for the purchase in the 2018 Appropriation Bill before the National Assembly.
To this move, the Senate has directed its Committee on Judiciary to find out if any infraction was committed by President Buhari in his approval and direction for the release of the funds for the purchase of the aircraft.
The Senate asked the committee to report back its findings on Wednesday, May 3rd.
About The Author