Nigerians will choose between lifeless candidate and job provider in 2019 – Atiku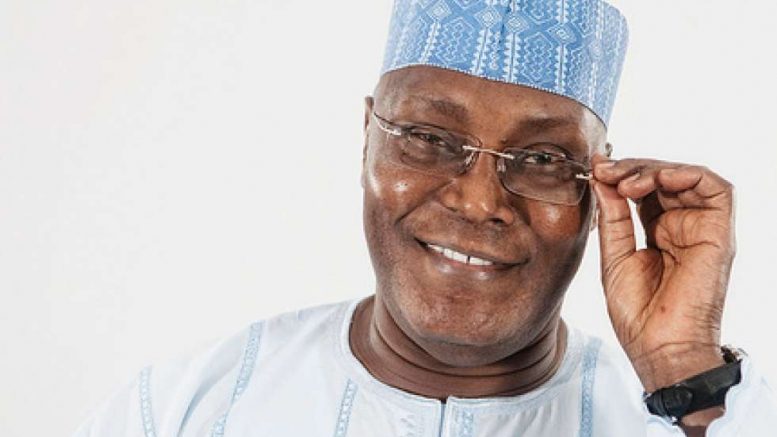 The Peoples Democratic Party presidential candidate for the upcoming February 14, 2019 election, Atiku Abubakar, has said his emergence has brought confusion to the camp of his All Progressives Congress counterpart, President Muhammadu Buhari.
He said this was the reason why the Buhari's camp felt that he (the former Vice-President) won the PDP ticket as a result of money politics. Atiku said with his emergence as the PDP standard bearer in the 2019 presidential election, Nigerians would choose between him "a job provider" and Buhari whom he described as a "lifeless candidate."
But the APC described the former Vice-President as "a desperate, corrupt and an unreliable politician" who it alleged had entrenched the anti-democratic practice of offering cash in exchange for votes. However, a statement by Atiku's media office in Abuja on Monday, said that the Buhari camp must have known that the era of favouritism had come to end in the country.
The statement said, "We are not surprised that there is confusion in the President's camp. We expected that they would be thrown into a catatonic state knowing that Atiku Abubabakr's emergence automatically means the coming to an end of their ignominious reign.
"That much was admitted by the President's former running mate, Pastor Tunde Bakare, when he praised the emergence of Atiku as an 'eagle' and 'a cosmopolitan wazobia' politician. "Obviously, Pastor Tunde Bakare has foreseen that the era of 97 percent versus five per cent has come to an end with the emergence of the pan-Nigerian Atiku Abubakar."
Atiku, in the statement, said that the wife of the President had even condemned the primaries of the ruling party, wondering if anyone could have known the APC more than her. The statement said, "We ask, how can the Buhari Campaign Organisation disparage the PDP primary that produced Atiku, when even the President's own wife, Aisha Buhari, has condemned the APC's primary?
"Not only did Mrs Buhari condemn the APC's primaries, she described them as 'unfair' and lacking in integrity. Who can know President Buhari better than his wife?" In the statement, Atiku said there were other 11 aspirants that contested against him, adding that all of them had accepted his victory.
Buhari, who he said was the sole candidate of his party, was already being challenged by other five aggrieved interested aspirants.
He said, "11 aspirants contested against Atiku, during the presidential primary of the PDP. Every single one of them accepted his victory. "President Buhari was the only candidate cleared by the APC to contest its primary. Yet, a coalition of five aspirants is challenging his victory. That alone tells Nigerians his emergence is fraudulent."
Atiku, who debunked the allegation of corruption against him, said as the most investigated politician in Nigeria, the President would have arrested him because of his (Buhari's) vindictive nature. He stated, "Nigerians know that Atiku Abubakar is the most investigated politician in Nigeria and any smear by the Buhari administration remains just that. "With the vindictiveness of President Buhari, he would have arrested Atiku if he had been found wanting.
"However, to set the record straight, we want to remind Nigerians that the PDP's primaries were genuine, free and fair. Atiku Abubakar got 1,532 votes in a contest televised live to millions of Nigerians. The APC's primary, on the other hand, was a study in dictatorship and corruption. The sole candidate, Muhammadu Buhari, scored almost 15 million votes. How could that occur without rigging or manufacturing of faceless voters?
"No wonder Transparency International rated Nigeria as more corrupt today under Buhari, than just three years ago when the PDP was in power. "The scandals are too numerous, including the $25bn NNPC contracts awarded without due process, the several padded budgets, the $41m Ikoyi Apartment scandal, the recall, reinstatement and double promotion of an alleged pension thief and Buhari financier, Abdulrasheed Maina, the N200m grass cutting scandal, and many others too numerous to mention."
The former Vice-President said that in 2019, Nigerians would choose between what he called a lifeless candidate and a job provider. He said, "The choice before Nigerians in 2019 is a simple one. Nigerians have a choice of electing a lively candidate with a record of providing 50,000 jobs to Nigerians in his private capacity versus the lifelessness (apologies to President Donald Trump) of a candidate under whom Nigeria lost 11 million jobs and became the world headquarters for extreme poverty.
"Nigerians have a choice of a man who will provide an efficient and business-friendly solution to the herdsmen crisis and a man whose government said 'giving land for cattle ranching is better than death." "It is very obvious that faced with such a choice, Nigerians would definitely vote for the man who will Get Nigeria Working Again, hence we are not surprised by this desperate statement from the Buhari administration that is so shameless that they made a man implicated in framing a man of God on spurious charges as their spokesman.
"If he can lie against a man of God, should Nigerians believe anything he says about the PDP and its candidate? "
APC says Atiku is corrupt, unreliable But the APC in a statement signed by the acting National Publicity Secretary of the party, Yekini Nabena, in Abuja, on Monday said the APC only congratulated Atiku on his victory in keeping with its belief in participatory democracy. However, the ruling party said the PDP candidate had a series of corruption allegations which he had yet to effectively debunk.
The APC spokesperson said Nigerians would be confronted with a choice of whether to vote for a candidate who was deficient in terms of integrity and one whose integrity had remained his greatest selling point. The statement partly read, "In assessing candidates to be voted for during elections, Nigerians will normally consider the candidate's background and past. The pertinent question to ask about Atiku is what his scorecard in public office was? "Regrettably, Atiku's scorecard is abysmally low and he has proved to be an untrustworthy and unreliable character.
"A case in point is Atiku's revealing altercation with his former boss President Olusegun Obasanjo which exposed the level of corruption Atiku was enmeshed in." The APC also alleged that Atiku's name had been on the global watch list of the United States of America and that he could not travel to the US in order to avoid arrest and prosecution over a money-laundering and corruption case in that country.
Nabena said, "Atiku is known as a super rich Nigerian who entrenched the undemocratic practice of buying votes of delegates. During the APC National Convention in 2014, he spent several millions of dollars to buy delegates' votes and emerged third, after Buhari and Rabiu Kwankwaso. "On Sunday, he reportedly bought over virtually all the PDP delegates and was declared winner of the PDP presidential primaries. With these huge expenses expended to secure the PDP ticket, how will Atiku recoup his 'investment' if not from the public treasury should he win the Presidency?"
About The Author